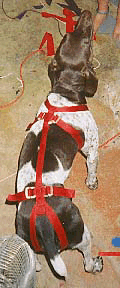 Because serious caving is tough on the toughest gear...

GGG does custom sewing at selected caving events throughout the year at our shop in Texas. We can work with you to produce your designs or make alterations to existing gear.
We also do repair work on caving and climbing gear at our discretion. (Please keep in mind that some gear cannot ever be made whole or even remotely safe again.)
We can help you to retrofit and upgrade your existing system. Ask us about rebuilding your system using your hardware.
We're glad to help you tune and fit your system. See us at caver functions or come by the shop and try out the rebelay course.
Questions? Stop by, call, or email.